KATIE & OLY
Il Borgo di Carpiano, nel cuore dell'Umbria, fa da cornice ad uno splendido matrimonio country chic di questa simpatica coppia inglese.
4 August 2017
Katie & Oly wrote to me on the recommendation of another one of my brides, who I had helped two years before…and she chose the same enchanting venue: the Borgo di Carpiano. Located about half an hour from Gubbio, a city which I am very attached to, The Farm house is perfect for weddings that do not exceed 60 guests.
Katie had decided not to reply on anyone for her hair and make-up… the help of her friends and her natural beauty made the game really simple. She was perfect!!!
Oly was also helped in getting dressed and once the ancient church of the village was ready, the Uncle who officiated was in place and the musicians ready with their instruments in hand, we started the symbolic ceremony .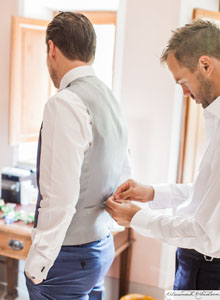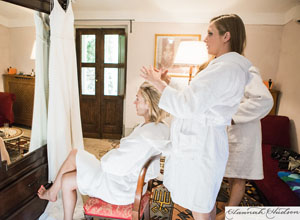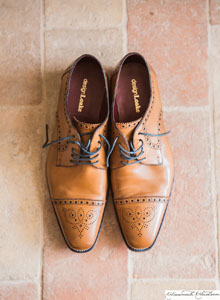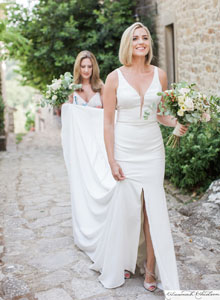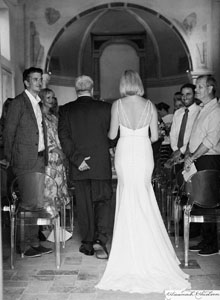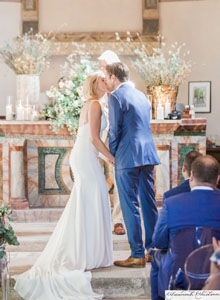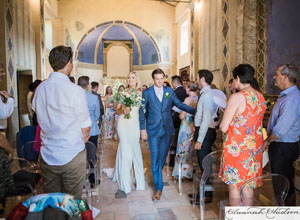 The photographer Hannah Hudson had a really unique method to make everyone in the photos always look good, cheerful and smiling… now I will try to make you understand by writing, I don't know if I will succeed; verbally it is much simpler;)
Before taking the picture, they were asked to repeat "haha haha hahaha", a type of laugh that makes you feel stupid and inevitably makes you laugh for real…but in the end I would say the results were surprising !!!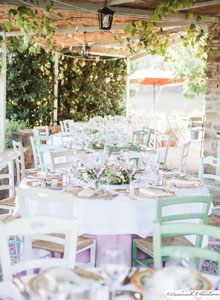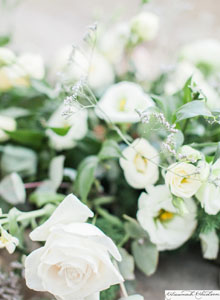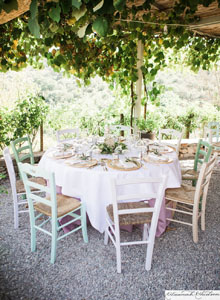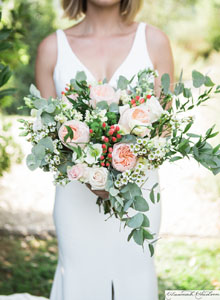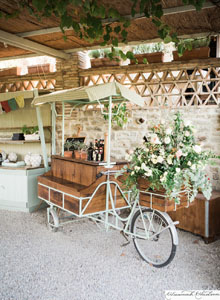 After the usual photos, the bride and groom joined the guests: the welcome drinks and canapes were set up in the space in front of the church. Every true Italian delight had been prepared in buffet style by the kitchen brigade, coordinated by Riccardo and Marilisa, the splendid and affable owners, as well as great professionals. While the guests were busy in the upper part of the village, we were to light the candles and lights that would have created the atmosphere desired by the bride, in the area dedicated to dinner, with a splendid view of the greenery. The village had been completely renovated by the owners, fully respecting the materials and style, giving it life again and bringing it back to its old splendour. The style and theme for this wedding I managed to achieve thanks to the help of Antonella Cricchi, my incomparable Umbrian florist. For the wedding tables we used old fruit boxes, tin pots and aromatic herbs… the same ones that the guests then found on their tables topped by a myriad of lights that gave an extra touch to the atmosphere. The band music chosen by the couple made everyone dance until late at night, which was absolutely not a problem for the guests, all staying at the farmhouse. The next day they all met by the pool for brunch, before taking a their flights to return to England!